While having bad credit can feel like financial prison, it doesn't have to be a life sentence.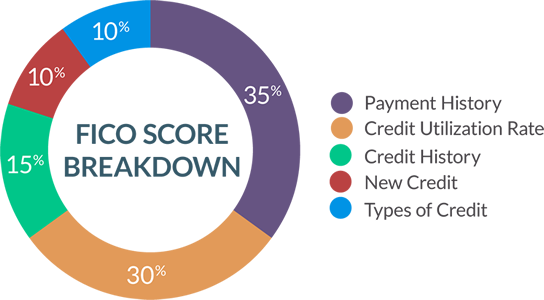 YOUR CREDIT SCORE HAS FIVE MAIN CONTRIBUTORS
Anchor Credit Experts focuses  on two of these factors – your payment history and new credit – which make up 45% of your overall score.
Learn more with a FREE credit consultation
LEVERAGE THE LAW
Unlike other credit repair companies, Lexington Law uses specific laws to protect your credit from unfair situations that may be out of your control. Lexington Law can help if your credit has been damaged by:
IDENTITY THEFT
MEDICAL BILLS
DIVORCE
MILITARY SERVICE
STUDENT DEBT
Find out how Anchor Credit Experts can help
HOW IT WORKS IN THREE EASY STEPS
1. ANALYZE
Your credit report.
2. ADDRESS
Negative items hurting your credit by challenging them with bureaus and creditors.
3. ACCELERATE
The process by challenging remaining items.
THE AVERAGE CLIENT USES OUR SERVICES FOR
Every credit situation is unique but we do everything we can do to make the process faster and more efficient